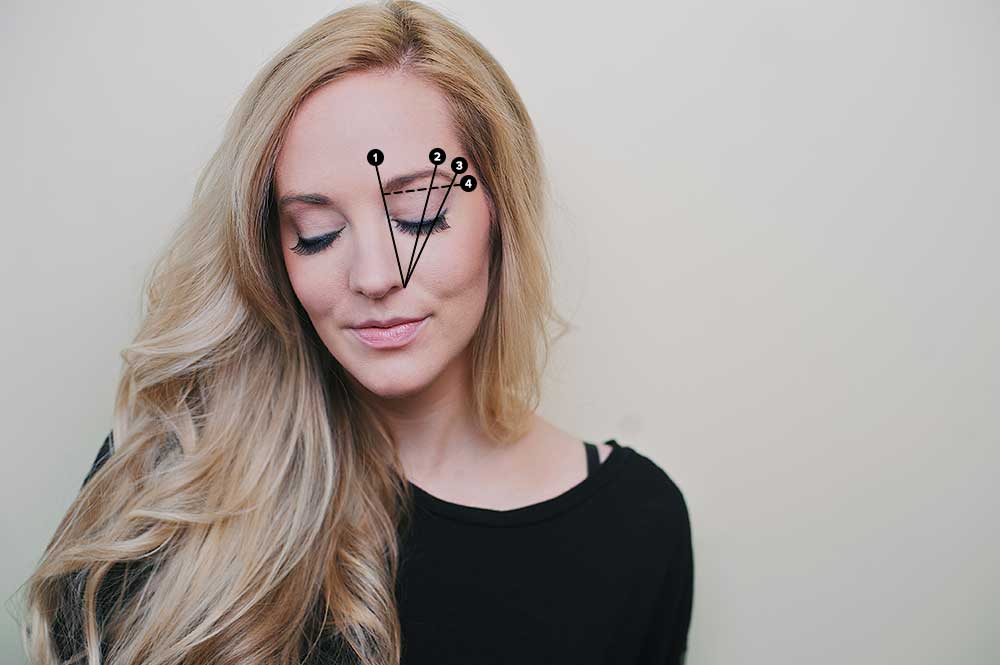 My latest unhealthy beauty obsession is my eye brows. Fuller brows purportedly create a more youthful look and can accentuate other facial features in a more flattering way. Social media is flooded with images of Cara Delevingne and Lily Collins with their Amazonian bushy brows, and Desperate Housewives perma-angry 'Scouse brow'. They all seem impossible to achieve despite the myriad of YouTube videos showing you how to draw, paint, sculpt, contour and create the perfect brow.
In my effort to copy this look which I tell myself I MUST have, I have been the way of the brow powder, the brow pencil and even the hardcore brow pomade…and failed miserably with each one.
As I've gotten older, my brows have become more sparse. This is part of the normal aging process –yay. Now if this were the 90s, I'd be in luck (think pencil thin trendy brows of Gwen Stefani and Pamela Anderson). So I started using a powder to fill in the gaps (our Pressed Eye Shadow Singles in Mojave, to be specific). It worked. My brows no longer looked like swiss cheese. But they still weren't perfect. My Instagram feed was constantly showing women with PERFECT brows, like someone had painted them on canvas (which essentially, they had). Mine just weren't good enough.
I moved on to an eye brow pencil. Disaster. I even used a spooly to make the waxy pencil substance blend in with the hairs better. No matter what I did, it still looked like a five year old was drawing on my face with a crayon. There was only one more eye brow specific product left to try. Over the weekend, I hit up my local Ulta store and picked up a brow pomade. Think of this item as shoe polish for your face. Because that's what it looks like and feels like. Saturday night I was going out with friends and wanted to finally have that perfect brow which I could sport with confidence. I prepped my eye brow area with our soon to be released liquid foundation (I know, it's not fair I get to play with it before you guys). Then I grabbed my ultra-precise angled brush and lightly dipped it into the jar of pomade. Ever so carefully, I filled in the area along the underside of my brow, creating the angle I feel is supposed to be there, but isn't. It looked pretty good. So I used more product to fill in the bald spots and create more of a tail to my brow (one brow has a natural tail, the other doesn't *sigh*). The product went on easily and felt like it had some serious staying power. To make it look more natural, I went back with the spooly and brushed the hairs well. I had that perfect painted on brow. Could it be that I finally got it right?
I left the comfort of my dark bedroom and dim vanity light where I apply my makeup, and went into my brightly lit bathroom. YIKES! I looked like Picasso had danced a jig on my face. There were two dark Nike swooshes above my eyes. Maybe it looked dramatic because I hadn't done the rest of my makeup yet. Yeah, that's it. I went back to my vanity to complete my look (keeping in mind, my normal makeup look is very natural to begin with….like people ask me 'do you wear makeup?' natural). I amped up my eyes applying more eye liner, mascara and shadow than usual, hoping the added pop of color would balance my brows. It didn't. So I took some of our Pressed Mineral Foundation and started blending that into my now waxed over brows. It wound up making them look rather dusty and gray, but at least less pronounced. No matter though; I was out of time and had to be on my way.
I could tell by the way my friends looked at me when I walked in the room that they noticed something different. These women are not regular makeup wearers. I was hoping the dim lights of the establishment would hide my in-your-face brows, but to no avail. Maybe it was my own paranoia. Perhaps an overall insecurity and lack of confidence. But I couldn't wait to get home and scrub off my artistic scowl.
Look, every woman has a different face. Audrey Hepburn's iconic brows would look ridiculous on Charlize Theron. I think we need to work with what we are born with, what will naturally look good on our face instead of what social media is telling us we MUST have. Here are some eye brow 'rules' I agree with:
1) According to celebrity eyebrow stylist (yes, there is such a title) Joey Healy, "your brows should lie squarely on the brow bone. It helps to use your fingers and feel where your brow bone is. 'This way, you are making sure you are getting a brow shape that's unique to your own bone structure.'
2) Ideally, he says the brow should begin at the bridge of the nose and end at the corner of the eye. Also, the brow arch should be about two-thirds from the tail end." "To achieve a perfect brow shape, you want to see the head of the brow as two parallel lines that gradually incline together, culminating at the arch, then gradually tapering off into the tail."
I will never have eye brows like Brooke Shields, and that's probably a good thing. I have smaller, closer set eyes and big brows like that would overpower my face. But my thinner brows could use some updating, so I will continue to grow them in, within reason. I think the lesson here is to not ignore the trends, but be aware of which ones will look good on YOU.