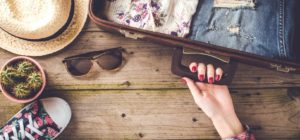 Summer time means travel for many, and with airline baggage fees being through the roof, plus stringent TSA regulations, your packing game needs to be on point.  Here are some tips that can help.
Know The Rules
Any liquids must be in a resealable container that is 3.4 ounces or less and all containers must fit in one clear, plastic, resealable 1-quart-sized bag. You will need to take this bag out of your carry-on luggage when passing through airport security.  So either be super-efficient about packing all of your toiletries into one bag, or pay the fee and check a bag.
Get Creative
Many products can do double duty.  For example, our Cosmopolitan Eye Shadow Palette can also serve as a highlighter (Angelic), blush (PS Pink) and contour (Kashmir).  So you've really got four products in one small palette.
Sample or Travel Size
Sure our sample sizes are great for trying new shades on your skin, but they also make perfect travel companions.  Five shades of eye shadow would take up quite a bit of room in your makeup bag.  But you can pack lots of our little samples into a very small space, and not have to limit your color options.  Also, our soap samples are perfect for those overnight stays where you don't know what (if any) amenities will be available.  And they're great to take on camping trips.
Gift Sets Do Double Duty
Our gift sets are a great value but they are also perfect for packing.  Why pack that 8 oz bottle of our Alcohol Free Hair Spray when the 2 oz size in our Happy Hair Gift Set takes up less space?
Be Smart About Size
Our shipping manager Karla got a nasty sunburn last year, and the only thing that soothed it was our Facial Toner.  And personally, I can't live without our Herbal Aftershave which I use to clean cuts and scrapes and any other malady I inevitably encounter while traveling.  But why make room for bulky bottles, when you can use this trick instead:  fill a small snack baggie with 10 cotton balls, and then pour in enough aftershave or toner to wet the cotton.  Seal up the baggie and you've got a little first aid kit to go.
Have a favorite travel/packing tip?  Share it with us!