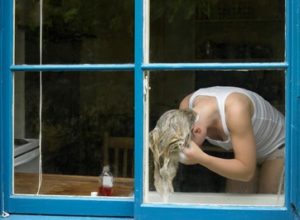 Most of my teenage and adult life, I've washed my hair every day. My hair is long and fine and looks yucky if I don't. But lately there's been a trend to NOT wash your hair as often, and I must say I've jumped on the bandwagon. So is this a healthy trend for your hair (and mental wellbeing) or not?
According to the experts, there's no one good answer to how often people should shampoo. It usually comes down to the kind of hair you have and your personal preference.
Shampoo washes away natural oils on your scalp, so if you do it too frequently, you may dry your hair out, leaving it prone to breakage. For the most part, you definitely want some oils (sebum) to remain in your hair to provide moisturizing and a protective barrier on the skin and hair.
Really only a small group needs to shampoo daily. Those with very fine hair, someone who exercises and sweats a lot (or someone living in very humid place), or people with very oily scalps may need to wash their hair every day.
The type of hair you have matters too. The thicker your hair and the less oil, the less you need to shampoo. People with dry hair or curly hair can wash much less frequently without problems.
For the average person, every other day, or every 2 to 3 days, without washing is generally fine. And it's also recommended to never go longer than 14 days without washing.
In recent years, more and more products have become available to extend how long you can go between washes. And people are coming up with different methods to keep hair looking good. Dry shampoos are powders that work to absorb oil, so it doesn't sit on the scalp as much. Leave-in conditioners can help to reactivate your hair style. Some people even choose to skip the shampoo, just wetting and conditioning between shampoos instead.
Aside from products, there are other measures you can take to extend your time between washings without looking frumpy. Try parting your hair in a different place. Maybe try the chic braids that are so popular on Pinterest. Opt for a fun ponytail or bun with cute hair accessories.
As for me, I'm still trying to figure it all out. I have found that our Alcohol Free Hair Spray can make my Day 2 hair look pretty darned good. It's water-based, so it safely reactivates my hair style without harsh chemicals which could dry it out. By Day 3 I'm attempting some sort of pony tail or poorly-created braid. I can't go past Day 3. I just can't. I won't.