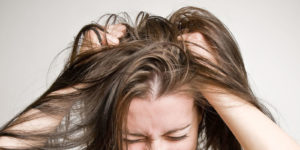 So you may have noticed exfoliating shampoos popping up on your Insta feed or when you're shopping on Amazon. Are we really exfoliating our hair now too?
Washing your hair less than daily has become a trend in recent years. As such, so has the use of oil-absorbing products like dry shampoos. Add in color processing hair on a regular basis and your scalp begins to have needs that traditional shampoos just can't touch.
Exfoliating shampoos aren't meant to scrub the hair shaft.  They work on the scalp at the "root" of the problem.  Ingredients such as sea salt, sugar, charcoal, corn meal, baking soda and fruit acids can break down the buildup on your scalp.  This can help trigger new skin cell growth, clear away dead skin, and clean your hair follicles.  A healthy scalp needs oxygen, moisture, vitamins and other nutrients to remain healthy.  An added bonus?  Scalp stimulation (exfoliation and massage) can increase healthy hair growth.
Do you often have a tight, itchy scalp?  Do you have flakiness on your scalp, but know you don't have dandruff?  Then you may want to jump on this trend.  How often should you use an exfoliating treatment?  Up to once a week if you are a heavy product user and are starting to see signs of scalp stress (flakies).  Monthly if you wash your hair more regularly and don't often use lots of hair products.
Here are some recipes to try.  You can either add each blend to your shampoo, or use the treatment alone before you shampoo.
Clarifying:  1 T. cornmeal, 3 drops peppermint essential oil
Gentle Scrub:   1 T. brown sugar, 1 tsp. olive oil
Cleansing Scrub: 1 T. apple cider vinegar, 1T. fine sea salt
Rub into your scalp vigorously but gently (as if you were exfoliating your face), then fully rinse and follow with conditioner.